Description
Elektra, designed and produced in Italy
Clean and safe form of heating and hot water solution
Continuous hot water for its size – suitable for shower (Thermostatic shower mixer, highly recommended. Example: Grohe, Kohler, etc.)
Suitable for radiators and underfloor heating
240v single phase
Uses 50 Amps
Use 10mm cable
Flowrate: 8 Lt/min (Click here to check hot water graph)
Completely silent due to Triac Based Technology.
Modulates from 2kW – 12kW
Digitally displayed temperatures
Can be used with radiators or under floor heating
Simply connect flow and return from heating circuit and cold supply for HW
All components, for normal function of the boiler included inside
Hot water limited to 50°C
Central heating limited to 75°C
Economical (see blue chart below) installer and user friendly.
2 Years warranty (extendable)
Package contents:
1 x Elektra C Electric Combi Boiler
2 x 22mm Isolation Valves
2 x 15mm Isolation Valves
1 x Bracket
Manual
PLEASE NOTE: THE BOILER NEEDS 300mm CLEARANCE AT BOTTOM
____________________________________________
Elektra C:
Hot water delivery 8 litres/min Constant. 40°C – 50°C (depending on the incoming mains water temperature).
To fill a bath, one would have to reduce the flow rate to fill a bath, which could take 15 min+.
Can only supply at one point due to pressure loss if you open two outlets.
Uses full 12kW or 50 Amps.
Graph (Hot water output):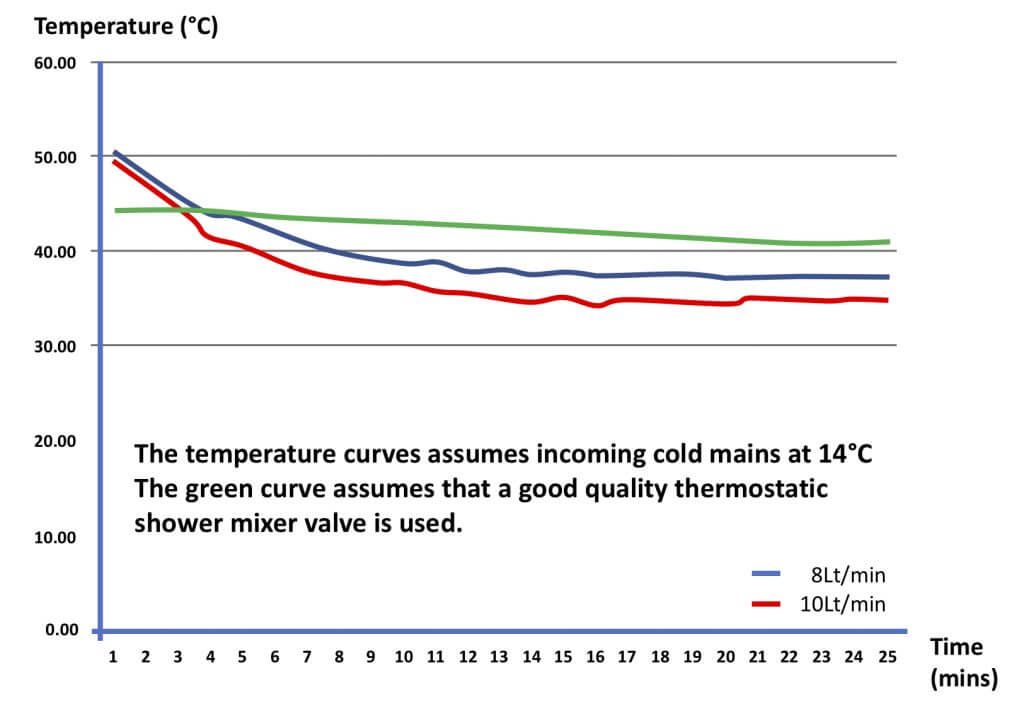 ____________________________________________
Based in London or Berkshire? You can also come to pick the boiler up in person from our Windsor office :
Electric Combi Boilers Company, Green Acres, Oakley Green Road, Windsor, SL4 4QF
For more information: Contact our Windsor branch on 01628 636 099