Description
GUIVAL.C, a small electric combi boiler for showers and central heating, manufactured in Italy.
Clean and safe form of heating and hot water solution
Continuous hot water for its small size – suitable for a  property with a shower (we only recommend thermostatic shower mixers to experience the best quality shower possible)
Suitable for radiators and underfloor heating
240v single phase
Uses 50 Amps
Use a 10mm cable
Flowrate: >8 Lt/min (Click here to check the hot water graph)
Completely silent due to Triac-Based Technology.
Modulates from 2kW – 12kW
Digitally displayed temperatures
Simply connect the flow and return from the heating circuit and the cold supply for HW
All components, for the normal function of the boiler included inside
Hot water limited to 60°C
Central heating limited to 75°C
Economical (see blue chart below) installer and user-friendly.
2-year warranty (Subject to TCs, registration of warranty and boiler service every 2 years required).
Package contents:
Option 1: Boiler Only
1 x Guival.C by Guival Electric Combi Boiler
1 x Bracket
Manual
(Isolation valves are optional and can be purchased as an add-on on checkout with Options 2 and 3.)
Option 2: Boiler +Isolation Valves
1 x Guival.C by Guival Electric Combi Boiler
1 x Bracket
4x Isolation valves
Manual
Option 3: Boiler +Warranty Bundle
1 x Guival.C electric combi boiler
4x Isolation Valves
Silicone tube 0.5 Meter
1x Rotary Isolator Switch
1x AQ.322 Non-Bypass Central Heating Filter
1x ZeroCal Water Treatment System
Manual
PLEASE NOTE: THE BOILER NEEDS 300mm CLEARANCE AT BOTTOM
____________________________________________
Guival.C by Guival:
Hot water delivery 8 litres/min Constant. 40°C – 60°C (depending on the incoming mains water temperature).
The use of a Guival.C to fill a bath is not recommended, one would have to reduce the flow rate to fill a bath, which could take 15 min+.
Can only supply at one point due to pressure loss if you open two outlets.
Uses a full 12kW or 50 Amps.
Graph (Hot water output):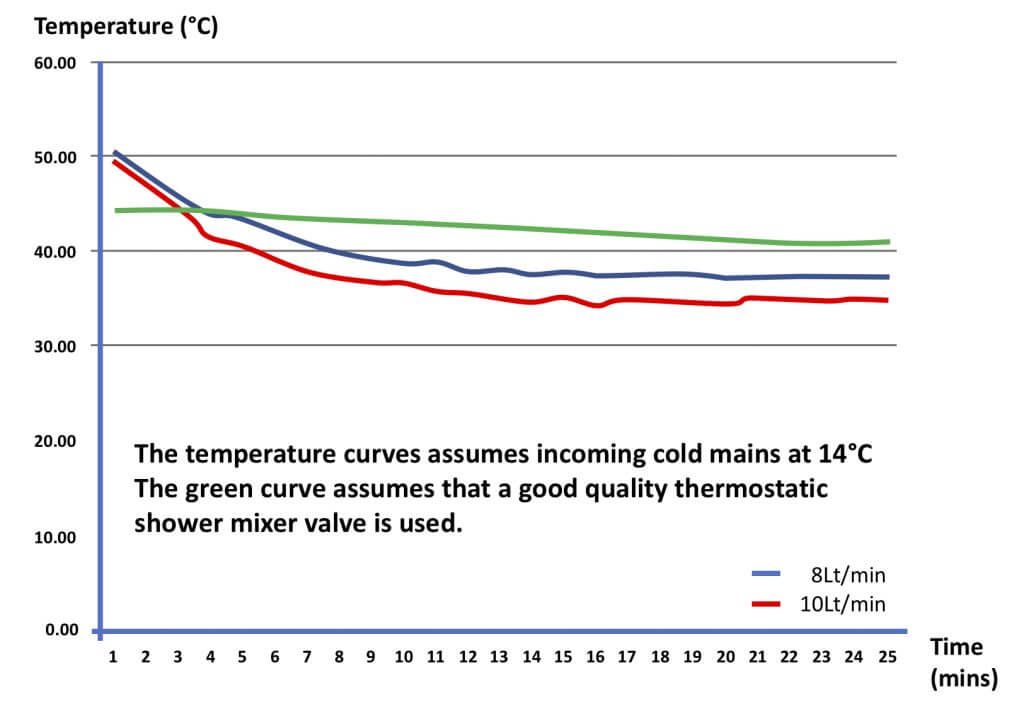 ____________________________________________
The GUIVAL C is available in 12kW.
It is manufactured in Italy and fully certified by UK/EU certification bodies.
We have a team of professional installers trained on how to install, service and repair our boilers to provide support remotely or on-site across the UK.
Available on PRE-ORDER. Deliveries start on October 2023. NEXT-DAY and STANDARD Delivery (3-5 working days) options to choose from.
FREE COLLECTION from our WINDSOR HQ is available upon request.
Electric Combi Boilers Company, Green Acres, Oakley Green Road, Windsor, SL4 4QF