Description
___________________
TECH SPECS
Elektra electric boilers, British designed and manufactured in Italy
Wall-hung electric combi boiler with built-in smart controls
Compact size that allows it to be fitted in tight spaces.
Gives heating & instantaneous hot water at 40-65°C  – Click here to check the hot water graph).  A good quality thermostatic shower mixer is recommended to get the best performance.
Hot water is limited to 65°C. Central heating limited to 75°C
Flow rate <13lt/min
Suitable for radiators (<14) and underfloor heating (~100m2)
12kW (240v single phase). Suitable for a property with 80A or 100A Main fuse.
Uses 50 Amps
10mm cable (minimum)
Modulates the energy usage between 2kW – 12kW
37.5 L glass lined, insulated steel cylinder with inspection flange, fitted with magnesium anode, mounted with insulated boiler casing. Fully insulated
Compatible with solar panels
Completely silent due to Triac-Based Technology
Digitally displayed temperatures
Simply connect flow and return from the heating circuit and cold supply for HW
All components, for the normal function of the boiler, are included inside
5 years warranty (Subject to TCs, registration of warranty and boiler service every 2 years required).
FUNCTIONALITIES
Hot water modes: Comfort (instant hot water) and ECO (uses the hot water stored in the cylinder, once this is empty it will take 20-30 min to heat the water in the cylinder again).
Central Heating modes: Summer (heating OFF) and Winter (heating ON)
Anti-Legionella function: the temperature of the cylinder is automatically raised to 65°C in order to eliminate legionella bacteria.
Cost-effective (depending on insulation and heat loss management on the property)
Installer and user-friendly.
In-built timer: set the times you want the heating to be on/off during the week (can be done on the boiler screen, or via the SMART Boiler App.
All Parameters are the same for Elektra C & BP.
SMART PROGRAM/FUNCTIONS:
Built-in SMART controls: you can remotely turn your boiler ON/OFF, change the temperature settings, change the program modes (Summer/Winter, Eco/Comfort) and program the in-built timer with your phone or tablet using the MyBoiler App.
You can change and set your program for heating on/off. When the heating is running as per the smart program, the heating cannotbe controlled by a room thermostat. The best option to control the heating will be via thermostatic radiator valves or the temperature set for heating on the boiler.
SMART BOILER APP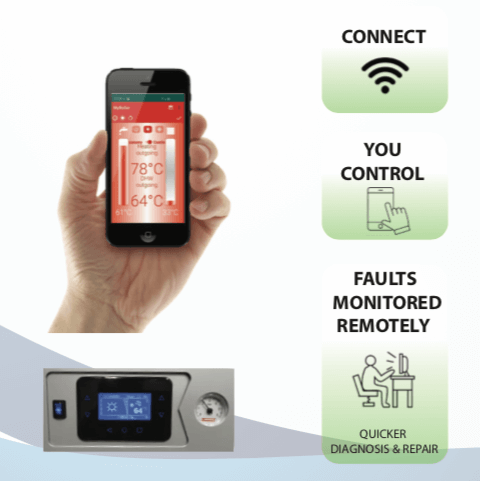 Package contents:
1 x Elektra BPC Electric Combi Boiler
2 x 22mm Isolation Valves
1 x 15mm Isolation Valves
1 x Bracket
Manual
____________________________________________
Elektra Electric Combi Boilers BP range:
In-built hot water storage
The Elektra Electric Combi Boilers BP range can store over 50 litres of hot water at temperatures ranging from 60°C to 65°C. The cylinder holds 37.5 litres, while the central heating reservoir holds an extra 10-12 litres.
Adjustable flow rate
While the default flow rate is set at 8 litres per minute, it can be adjusted up to 13 litres per minute for faster filling of the bath.
Optimal temperature delivery
The factory setting of 8 litres per minute is perfect for filling a bath and having a shower because the hot water is delivered at a higher temperature. A good quality thermostatic shower mixer is recommended to get the best performance.
Simultaneous showers
With proper water pressure in the house, it is possible to have two showers running simultaneously, with each tap providing around 4 litres per minute. Mixing with cold water can increase the flow rate to 6-8 litres per minute, therefore the installation of a good quality thermostatic shower mixer is highly advisable.
Efficient heating
The Elektra BP initially uses only 2 kW to heat up the water in the cylinder, and the power usage increases depending on the required temperature rise. It can go up to a maximum of 12 kW over time.
Difference between the SMART.BPC and the SMART.BPL
Both boilers have the same components and functionalities, the only differences being their size and the way the components are arranged inside the boiler. The SMART.BPC (C stands for COMPACT) is thinner (450 mm) and deeper (430 mm) than the SMART.BPL ( width: 660 mm, depth 300 mm). Both are 875 mm in height and 60 kg in weight (dry weight).
Installation Space
The SMART.BPL needs a minimum of 300 mm clearance at the bottom. The SMART.BPC needs a minimum of 300 mm at the top and bottom of the boiler. The boilers need to be installed in a place with ventilation to prevent the boiler from overheating.
Important facts to remember:
Continuous hot water supply:

An average shower uses 21-25 litres of water, the hot water contained in the in-built cylinder can provide enough hot water for a normal duration shower (5-8 min) in ECO mode. If set in COMFORT mode, the delivery of hot water is on-demand and continuous, similar to Elektra C, as the in-built cylinder is filled with instant hot water.

Bath filling efficiency

: According to BS6700, a standard 1700 x 700 bath requires 100 litres of water at 40°C, split into 60% hot water (HW) and 40% cold water (CW). The Elektra BP (preset at 8 litres per minute) is the

onl

y electric combi boiler that can

reall

y fill a bath with

hot water.

Optimal mains pressure

: The cold water mains pressure entering the boiler should not exceed 2 bar. If the pressure exceeds 2 bar, it is recommended to install a pressure-reducing valve and set it between 1.5 and 2.0 bar pressure.
Graph (Hot water output):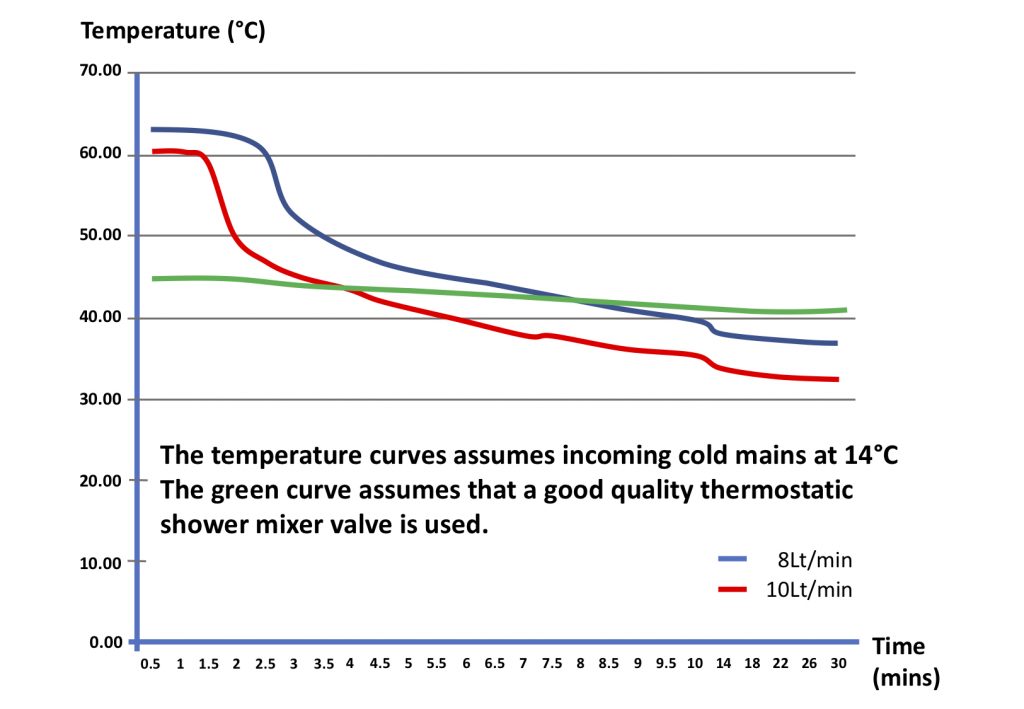 ____________________________________________
The ELEKTRA SMART.BPC is available in 6Kw, 8Kw, 12kW, 18kW AND 24Kw.
Our ELEKTRA electric boilers have been developed in the UK, manufactured in Italy and fully certified by UK/EU certification bodies.
We have a team of professional installers trained on how to install, service and repair our boilers to provide support remotely or on-site across the UK.
Delivery: NEXT-DAY and STANDARD Delivery (3-5 working days).
FREE COLLECTION from our WINDSOR HQ is available upon request.
Electric Combi Boilers Company, Green Acres, Oakley Green Road, Windsor, SL4 4QF